For anyone joining the tour at Oxenholme, we can carry your luggage in the vehicle and drop you off at your accommodation in Windermere, Bowness or Ambleside. At the end of the tour we can take anyone who wishes back to Oxenholme to catch the mainline train towards London or Glasgow/Edinburgh.
This tour takes you to:
Wordsworth House in Cockermouth, where William Wordsworth was born.
Penrith where his mother's family came from and where he spent a lot of time as a young child.
Ullswater, where William saw the daffodils that inspired his famous poem.
Hawkshead Grammar School where Wordsworth went to school and carved his name on a desk, which can still be seen.
Hawkshead known as the "prettiest village in the Lake District".
Greta Hall the home of Poet Laureate Robert Southey and fellow romantic poet Samuel Taylor Coleridge.
St Kentigern's Church to see the grave of Robert Southey and his memorial.
Grasmere Village at the centre of the English Lake District which takes its name from the adjacent lake. Wordsworth, who lived in Grasmere for 14 years, described it as "the loveliest spot that man hath ever found."
Grasmere Gingerbread Shop where the Victorian cook Sarah Nelson invented Grasmere Gingerbread in 1854.
St Oswald's Church where the Wordsworth family worshiped and whose interior William was so fond of.
Wordsworth Family Graves nestled beneath the yew trees which Wordsworth had planted.
Dove Cottage where William Wordsworth and his sister Dorothy lived from 1799 to 1808.
Views of Grasmere, the beautiful lake the Wordsworths knew so well.
Rydal Mount William Wordsworth's best loved family home from 1813 to his death in 1850.
Rydal Church built on the site chosen by William Wordsworth which also inspired two of his poems.
Dora's Field bought by William Wordsworth in 1826 and planted with hundreds of daffodil bulbs by William and his wife in memory of their daughter Dora.
Views of Rydal Water, one of the smaller lakes, with steps leading up to "Wordsworth's Seat", reputedly the poet's favourite viewpoint.
What is included in this tour:
Admission to Wordsworth House
Admission to Hawkshead Grammar School
Admission to Rydal Mount with a cream tea served in Wordsworth's dining room
Admission to Dove Cottage
Admission to te Wordsworth Museum if it is open
Knowledgeable guide to provide expert commentary and analysis, as well as taking care of practicalities and general support throughout the tour
Experienced driver for your safety on the steep, narrow and twisty Lakeland roads
Small group of up to 6 people for a more flexible and personalised experience
Use of personal radio communication technology to keep you in-touch with your guide when you are off the minibus (where applicable)
PLEASE NOTE: Although this trip is over several days there is no accommodation included. You will need to arrange and book this yourself. Our pickup points each day are Windermere, Bowness and Ambleside. All three towns have a large amount of hotels and guest houses to choose from.
Additional Features:
Gift Shops at Rydal Mount, Dove Cottage, Wordsworth House and the towns of Grasmere, Hawkshead, Cockermouth and Penrith
Comfort facilities available at Rydal Mount, Dove Cottage, Wordsworth House and the villages of Grasmere and Hawkshead
Suitable for solo travellers
Itinerary
Day 1 (Friday)
We start our weekend journey by traveling to Hawkshead where William Wordsworth went to school. As well as having a tour of the Grammar School we will take a look at some of the places in the area that he knew as a boy and see some of the places he mentions in "The Prelude". As a boy he would explore the area and we will visit some of the places that were his favourites spots.
Day 2 (Saturday)
Today we travel to the North Lakes and visit Cockermouth, where William was born. We will take a tour of the home where he was born as well as seeing some other places in the town that he knew as a child.
On our travels today we will also stop off at some of the places that other friends and contemporaries of Wordsworth, such as Coleridge, Southey, Shelley, de Quincey and Calvert lived when in the Lakes.
We will stop at a lovely 17th century coaching inn that has links to the Poets, where you will be able to purchase lunch.
Day 3 (Sunday)
On our final day we will spend the time near to Grasmere
Our first visit will be to Dove Cottage where William setup home with his sister Dorothy and many say is the place where he wrote his finest poetry. We will take a guided tour around the cottage. As work will still be ongoing in the redevelopment of the museum we cannot guarantee that the museum attached to the cottage will be open. If it is then we will visit that too!
We will then move on to Grasmere where we will take a tour of the village visiting many of the places he would have known as well as seeing two other properties where he lived for short periods of time. We will also get to see William Wordsworth's grave along with many others from his family such as Dorothy, his sister, and Dora, his beloved daughter.
Grasmere will also be our lunch stop.
Having explored Grasmere and its many lovely locations we move on to Rydal. Here we will take a look at some of the places he used to regularly visit before finally arriving at Rydal Mount where we will exclusively have a Cream Tea in Wordsworth's own dining room!
Additional Information
The English Lake District weather can change quickly, even in the summer months. Please bring a waterproof coat with a hood in case of rain or windy weather.
As there is some walking involved in the tour, some uphill and on uneven or wet terrain, please wear suitable, comfortable shoes.
No food or drink is included in the tour price.
Suitable for solo travellers
This tour is not suitable for children under the age of 5.
More Details about the Places on the Tour
Wordsworth House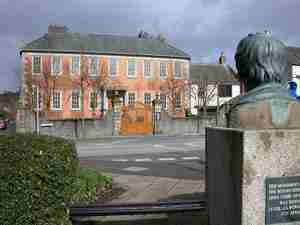 Entrance to Wordsworth House is included in this tour.
William Wordsworth and his sister Dorothy were born in this attractive Georgian house on Cockermouth High Street. The house is presented to visitors as it would have looked in the 1770s when the pair lived here with their parents and three brothers.
The house was built in 1690 by William Bird, and it initially housed agents of wealthy local landowners. Around 1740 it was purchased by the Sheriff of Cumberland, Joshua Lucock, who remodelled it in Georgian style with sash windows, wooden panelling, and a neo-classical entrance porch.
William Wordsworth was born here in 1770 to a lawyer named John Wordsworth, and his wife Ann. John Wordsworth served as an agent for Sir James Lowther, who owned the house, and Lowther allowed the family to live here without rent. Detailed records kept by John Wordsworth give a fascinating glimpse into the Wordsworth's lifestyle and that of his employer. John Wordsworth died in 1783, and the family were forced to leave. The children were sent to live with relatives.
The house passed through numerous hands until 1937, when the owner, Dr Edward Ellis, agreed to sell the property to Cumberland Motor Services, who planned to tear down the Georgian house and erect a bus garage. Local groups became alarmed at the prospect of losing the house. They raised 1,625 pounds to purchase the property and granted it to the National Trust.
The Trust has painstakingly recreated what the house might have looked like when William and Dorothy were growing up here. Layers of wall covering have been analysed to come up with a paint scheme that is, as far as we know, accurate to the late 18th-century look of each room.
The 'best' rooms, at the front of the house, have been furnished with authentic 18th-century furniture, which, though not specifically related to the Wordsworth family, at least give a good idea of how they would have lived. There are a few items owned by the Wordsworths, however, so all is not hypothesis! Outside the house are lovely gardens, where the Wordsworth children would have played.
Hawkshead Grammar School and Village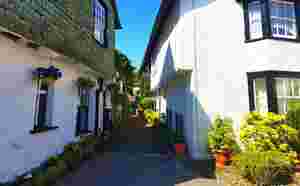 Hawkshead is a picturesque old medieval village on Esthwaite Water, set midway between Ambleside and Coniston. There are whitewashed cottages around the central square of the village, and many narrow, cobbled alleys and archways running between the various properties. The lack of street signs can be rather confusing but you will have a short walking tour with your guide when you arrive to help you find your way among the labyrinth of alleyways and ginnels. Many of the buildings have decorative features, ranging from pretty window boxes to carved gargoyles in the eaves of some of the cottages. Known as the "Prettiest village in the Lake district".
The church of St Michael, which overlooks the village, has an interesting 16th Century altar tomb. It also has illustrated versions of some of the psalms and other quotations painted on the walls during the 17th and 18th Centuries.
William Wordsworth lodged in the village and attended the Grammar School here between 1778 and 1783. Your entrance to Hawkshead Grammar School is included in your tour. The old school is open to visitors and there is a desk on which the young vandal carved his initials. Apparently, the punishment for such misdeeds was a birching whilst suspended from a pulley system in the centre of the room. We can only surmise that Wordsworth received the punishment as his crime is still evident.
Grasmere Village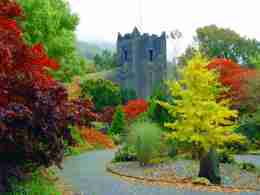 Grasmere is probably Cumbria's most popular village, thanks to William Wordsworth (1770-1850). Most of the buildings date from the 19th or early 20th Century, though the farms around Grasmere are much older. The Church dates from the 13th Century.
William and his sister Dorothy moved into Dove Cottage, in 1799 and they stayed here until 1808 as the cottage had became inadequate. They moved to Allan Bank, a large house that William had condemned as an eyesore when it was being built. They lived here for two years, with poet and friend Coleridge. They then moved to the Old Rectory, opposite St. Oswald's Church, a cold and damp house where his two youngest children died. In 1813 they moved to Rydal Mount. In 1850 William caught a cold while out walking and later died. He and his wife Mary, who died 9 years later, have a simple tombstone in the churchyard of St Oswald's Church, now one of the most visited literary shrines in the world. The Church stands on the bank of the River Rothay, along whose banks pleasant walks can be made.
Every year on the Saturday nearest St. Oswald's Day (5 Aug), Grasmere celebrates its Rushbearing Festival. This custom dates back to the days when the earthen floor of the church was strewn with rushes for warmth and cleanliness.
Grasmere
Grasmere at 1 mile long, half a mile wide and 75 feet deep, would be an attractive and popular tourist area even without its Wordsworth connections. 'The loveliest spot than man hath ever found' was Wordsworth's famous quote describing the area of Lakeland that he most loved. The small island in the middle of the lake was his favourite destination while he was living at nearby Dove Cottage.
Dove Cottage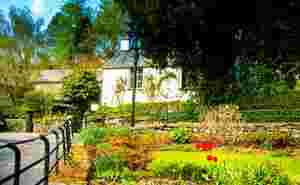 It was in this little cottage, at times 'crammed edge full' with people, in the heart of the remote Lake District, that William Wordsworth wrote some of the greatest poetry in the English language and Dorothy kept her famous 'Grasmere Journal', now on display in the Museum.
William came across his first Grasmere home by chance as he and his brother John walked along this lane with his fellow poet Samuel Taylor Coleridge in late 1799. He and his sister Dorothy moved in just a few weeks later. The cottage had once been an inn, the 'Dove and Olive Bough'. It was now to be the Wordsworths' home for the next eight years. In 1802 William married Mary Hutchinson and three of their five children were born here.
Rydal Water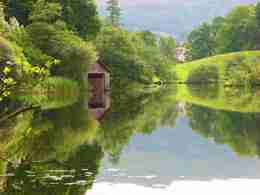 It was here that William, Dorothy, their brother John and many of their friends walked in the surrounding hills and around the lake itself.
Many of the places mentioned by Dorothy in her Grasmere Journal can still be visited and at the western end of the lake, steps lead to Wordsworth's Seat, which is believed to have been Wordsworth's favourite viewpoint.
White Moss House, at the northern end of the lake, is thought to be the only house that Wordsworth ever bought. He purchased it for his son Willie and the family lived there until the 1930s. Nab Cottage overlooks the lake and was once home to Thomas de Quincey and Hartley Coleridge, the son of Samuel Taylor Coleridge.
Rydal Mount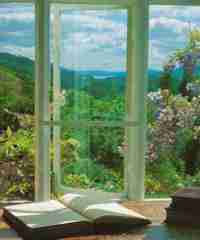 Rydal Mount, in the heart of the English Lake District, lies between Ambleside and Grasmere and commands glorious views of Windermere, Rydal Water and the surrounding fells. This was William Wordsworth's best loved family home for the greater part of his life from 1813 to his death in 1850 at the age of 80. The house, which was a focus for romantic literature, continues to be owned by the Wordsworth family and retains the feel of a lived in family home.
The house dates from the 16th century, although was enlarged over the intervening centuries, and even by Wordsworth himself. It contains a selection of the family's prized possessions and portraits.
Wordsworth was a keen landscape gardener and the five acre garden remains very much as he designed it. It consists of fell-side terraces, rock pools and an ancient mound.
Rydal church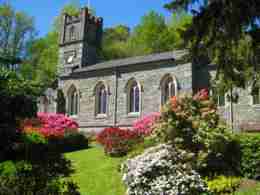 The chapel of St Mary was built by Lady le Fleming, of Rydal Hall in 1824. William Wordsworth helped to choose the site, which was originally an orchard. The gallery in the church was reserved for the private use of the le Fleming family.
William Wordsworth and his family, who lived at nearby Rydal Mount, and the Arnold Family from Fox How, worshipped here. Dr Thomas Arnold was the famed headmaster of Rugby school and the father of the poet Matthew Arnold. Their family pews are on each side of the aisle at the front of the church. Wordsworth was church warden from 1833-1834, and there is a memorial plaque to him.
Inside there are many memorials and plaques to people with local connections. The four stained glass windows are memorials, and are worth studying. One of the South windows is by Henry Holiday (1891), and commemorates the two Quillinan step-daughters of Dora Wordsworth. St Mary's is built on rocky ground, beneath Nab Scar, so there are no burials at Rydal.
In April there is a Wordsworth Memorial Lecture in the Church, the texts of which are available in the Church as booklets. They are also available at the Armitt Library & Museum in Ambleside. The poet's birthday (April 7th) is also commemorated.
Dora's Field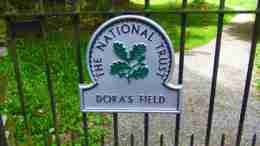 The Rash field next to the churchyard was bought by Wordsworth originally to build a house. The house never materialised. After his daughter Dora died in 1847, William went down to the field between Rydal Mount and the main road, and together with his wife, sister and gardener, planted hundreds of daffodils as a memorial to Dora. Dora's Field now belongs to the National Trust.